Avocado Green Tagua Bracelet from Ecuador
Tax included.
Shipping
calculated at checkout.
Sustainable harvested tagua nuts are sliced into discs and dyed rich colors and strung together to create this classic bracelet. Tagua is the seed of an endangered species of palm trees that grow in the tropical rain forests of South America. When ripe tagua seeds fall to the ground and are sun-dried for 4-8 weeks, they become extremely hard and are ready to be carved and dyed.
Tagua is referred to as "botanical ivory" due to its resemblance to elephant ivory and ability to be carved in the same manner. Crafting tagua into jewelry not only provides income to artisans at Naya Nayon in Ecuador, it also provides incentives to protect and preserve the rain forests.
Measures 1-1/4" wide x variable elastic diameter
Handmade in Ecuador and fair trade imported.
Naya Nayon Artisan Story
Ecuador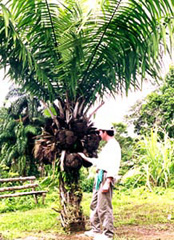 Naya Nayon, an Ecuador-based NGO, counters poverty and deforestation by creating new jobs that depend on conservation and responsible forest management. To accomplish this goal, the company works with 23 local artisans to create figurines, jewelry and ornaments from tagua nuts. These nuts grow year-round in Ecuador and can be harvested without detriment to the rainforest. Naya Nayon gives its artisans all the training, tools and materials they need to work from home, and then manages work distribution from the organizations main office to make sure orders are fairly distributed.