Shipibo Bell Ornament from Peru
Artisans from Aptec Peru have created these attractive Shipibo Bell Ornaments. They use natural raw materials including locally sourced clay and plant dyes.
Measures 2 3/4" high x 2 7/8" wide
Clay Ball Clapper
Handmade and fair trade imported from Peru.
MEET THE ARTISANS
Aptec Peru Artisan Story
Peru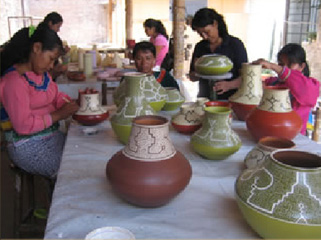 Aptec Peru is an artisan collective located near Lima, Peru. The organization is a community of 16 family workshops that employs about 140 individuals from low-income areas. The extensive skills of the artisans are seen through the range of products they create, including ceramics, jewelry, textiles, stained glass and woodwork.
Besides helping preserve a culture rich in tradition, the collective helps artisan producers better design and create high quality crafts, enjoy increased sales and earn a steady income. As a member of the International Fair Trade Assocation, APTEC Peru ensures artisans are paid fairly for their work, which creates a sustainable working environment for artisans, their families and communities.