Retro Camper - Felt Birdhouse
Tax included.
Shipping
calculated at checkout.
Celebrate your wanderlust with this felt birdhouse, lovingly detailed to look like a classic camper.
At 9" tall, hand-felted wool makes a comfortable and weather-resistant nesting place. The classic mint green color of a camper is accented by bright bunting and tiny flowers for an adorable and functional piece of hanging art.
As whimsically adorable as they are practical, these handmade felt birdhouses are inviting little houses for your avian friends!

A unique gift for housewarming, Mother's Day, Father's Day, birthdays or hostess gifts.
Product Details:
Measures: 9.5h x 6w
All work is done by hand using sustainably-harvested materials including natural sheep's wool, crocheted jute hanging cord and a hand-carved bamboo perch.
Sized for small birds like wrens, nuthatches and chickadees; Birds such as titmice may pull off parts of the wool and use them for their nests.
Opening measures approximately 1.25-inches but can be enlarged slightly to accommodate bigger birds.
If placed in direct sunlight, colors will gently fade over two to three months, but will retain their shape for more than a year.
Made of naturally water repellent sheep's wool. Surface moisture from dew, rain or snow quickly dries in the open air.
Cleaning out old nesting materials is easy through the hole at the base or through the entry hole
Do not machine wash or dry
FREQUENTLY ASKED QUESTIONS
Do birds really go inside?
Yes! Small birds such as wrens, nuthatches and chickadees use them as a safe place to nest and rest. Birds such as titmice may also pull parts of the body to take the wool to add to their nests.

 
Is it really safe to use outdoors when it rains and snows?
The body is made of 100% naturally water repellent wool and rarely gets wet inside. Surface moisture from dew, rain or snow quickly dries in the open air. Wool is also naturally dirt and mold resistant.
How do I clean it?
Generally, a good brushing is all that's needed. Otherwise, work the spot with mild soapy water, then rinse and air-dry. Do not use a washing machine or dryer.
How long will it last outside?
Will last forever in a protected place such as a porch or inside where its highly decorative qualities are sure to bring a smile to everyone. Use it as a door greeter, a porch ornament, or to enliven a kitchen, bath or bedroom! If placed in direct sun colors will begin to fade within a month as with any dyed fabric, but the opening and body will keep its shape in even the hardest weather.

What is it made from?
Made with sustainably harvested materials including wool, hemp for the hanging cord and a bamboo perch.
Is it Fair Trade?
Yes, these birdhouses are hand-crafted by skilled artisans working in a fair trade production center in Kathmandu, Nepal. Imported by DZI Handicrafts a member of the Fair Trade Federation.
Meet the Artisans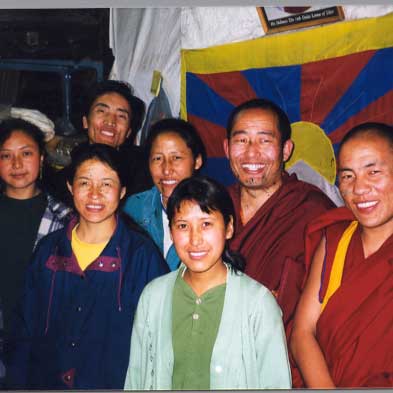 Walking into the Kathmandu production center's reception you are immediately greeted by a cheerful 'Namaste' ('I Salute the God Within You') with hands pressed together in a prayerful expression. Proceeding into any of the production halls you'll be greeted by a complete chorus of the same as dozens of ladies press felt into a variety of shapes, while others stitch, needle and applique to finish hundreds of different styles of decorative items for export.
Sheep's wool is an amazingly adaptable fiber. It can be dyed any color and when hand felted using warm mildly soapy water it can be molded into any shape, or then cut and sewn together as per your imagination. Because the felting and most of the stitching process is all done by hand with natural materials that can be sustainably harvested, hand felted products have a relatively soft impact on the environment. Commercial exports of felted products from Nepal have grown exponentially since around 2000, benefitting thousands of mostly women workers, production managers and family businesses who help support their families and educate their children with their earnings.