Acaba Spiders from the Philippines
Little Miss Muffet sat on her tuffet, eating her curds and whey..." Did you know that Miss Muffet was a real person and her father Dr. Thomas Muffet believe that eating mashed spiders was a cure for the common cold? However, we don't recommend eating these spiders which are handmade in the Philippines from abaca. The artisans use natural dyes found from plants, invertebrates, minerals, or vegetables to give them color.
They are great as Halloween decorations, to hang in doorways and eaves to scare away real spiders, or as Christmas ornaments for your tree. Their legs are flexible and can be repositioned to suit the moods and needs of your pet spider.
Large Spider Measures - 6 1/2" long x 6" wide x 2 3/4" deep
Medium Spider Measures - 4 7/8" long x 5 1/4" wide x 2 1/2" deep
Small Spider Measures - 4 1/2" long x 2 3/4" wide x 1 7/8" deep
Handmade in the Philippines and Fair Trade imported.
MEET THE ARTISANS
Disenio de Craftico Artisan Story
Philippines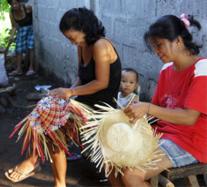 The artisans of Disenio de Craftico are fathers, mothers, young men and women who are able to help their families through the production of these crafts. They live near Lagazpi City in the Bicol region of the Philippines. Most are hand-to-mouth workers.
Using abaca fibre, nito vine and other sustainable materials, they create beautiful native handcrafts which are sold to create a livelihood for their day-to-day needs, lessen the poverty in their community and strengthen family ties.