Giraffe Pattern Carved Gourd- from Peru
Tax included.
Shipping
calculated at checkout.
Giraffes are known for their spotted coats. Different subspecies (types) of giraffes have different patterns of spots. Why do giraffe have spots? Either:
the different colors absorb heat at different rates thus establishing air convection currents that keep the animal cool in the heat of the day.

the spots help them to

 

camouflage

, or blend into their surroundings thus providing some protection against prey animals.

or it could be a condition called Psoriasis.
The giraffe has one of the shortest sleep requirements of any mammal, which is between ten minutes and two hours in a 24-hour period. This beautiful gourd box with a giraffe pattern was skillfully crafted by by artisans of Huancayo Peru. Gourd Carving is a traditional craft of the high Andean Mountains of Peru. Each gourd is skinned, cleaned, and sun-dried before artisans etch and burn the intricate designs that adorn its surface. This carved gourd box makes a gorgeous gift for giraffe and animal lovers.
Measures 4-1/4" high x 4-1/4" diameter
Handmade in Peru and fair trade imported.
MEET THE ARTIST
Tito Medina Artisan Story
Peru
Tito Medina belongs to the fourth generation of gourd carvers; his parents Eulogio Medina and Guillermina Salome, are from Huancayo,Cochas Chicas, Peru which is well known for carving, etching, burning, and transforming gourds into unique works of art. Tito is a master craftsman and is known across the continent for his fine carvings and pyro-engraved gourds, each one telling a unique story. He has been carving gourds since childhood, and opened his first market stall in 1986. Through his work he has promoted the traditional craft of his region and has raised it to the level of a fine art. Over the years he has participated in several art fairs and received numerous awards for his work.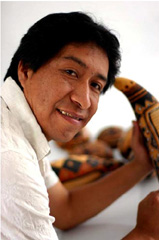 Tito and his family run Medina Handicrafts – a company that exports hand crafted gourd ornaments, masks and musical instruments. The family employs about 20 gourd artisans from the area in their engraving workshop at HuancayoHuancayo, Peru. Medina Handicrafts makes certain that the artisans employed with them receive consistent work and a stable income. The farmers from the costal town of HuancayoChiclayo, who harvest gourds for the company, also enjoy an abundant local market and consistency for selling their produce to Tito's business, thus providing stability for their families and community.