Ocean Blue | Magnetic Caterpillar Bracelet
$ 26.00
Regular price
$ 34.00
Tax included.
Shipping
calculated at checkout.
Inspired by the sea, blue and green stones, crystals and seed beads make up this popular bracelet that is handmade in Guatemala. Also features a magnetic closure. Measures 7" long by 1" wide.  
Are you a fan of statement jewelry?
Look no further than this gorgeous bracelet! Our Ocean Blue Magnetic Bead Bracelet is the perfect way to make a statement and also help support the vibrant artisans of Guatemala. Handwoven with Czech glass beads, semi-precious stones, and a charming magnetic closure, this bracelet was crafted meticulously by women working from home near the shores of Lake Atitlan. This stylish piece has been made following Fair Trade guidelines to help empower these women, so your purchase will help make an impact on their lives. For added convenience, it's easy to put on and take off as needed – simply clasp and unclasp the magnetic closure for added comfort. Measurements come in at 7.25" for a perfect fit! So why wait? Get your hands on this beautiful piece today!
* Czech glass beads
* Semi-precious stones
* Magnetic closure
* Length 7.25"
* Handmade in Guatemala
* Made following Fair Trade guidelines 
Meet the Artisans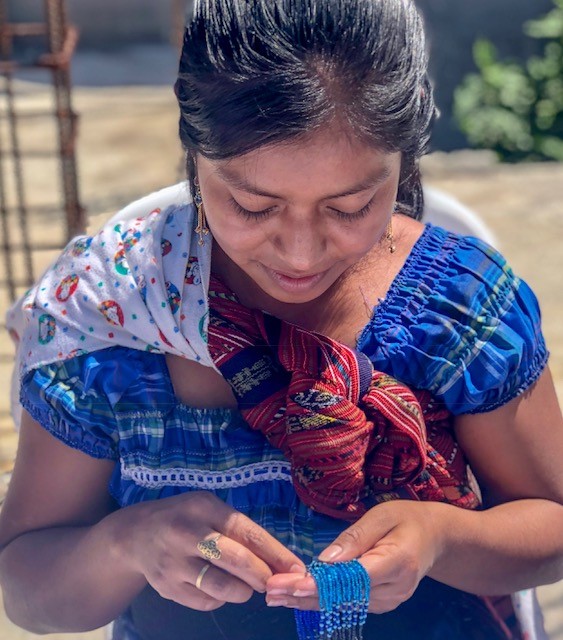 Lucia's Imports LLC partners with Guatemalan families, artisan groups, and cooperatives to maintain a wholesale market for their quality accessories and handicrafts. Lucia's Imports is a members of the Fair Trade Federation and hopes to share the beauty of the Guatemala's art and culture, while making a difference in the lives of Mayan artisans, one purchase at a time.

Working side by side with artisans, we design products rich in tradition and sustainable fashion. Our purses, coin bags and accessories are made from recycled Mayan textiles and our hand-beaded jewelry is made by artisan groups on Lake Atitlan---utilizing traditional weaving skills in modern design.