Shipibo Vase Ornament from Peru
Perfect for your Christmas tree or an all-year decoration, this ornament has been handmade by a member of Peru's ancient Shipibo tribe. The Shipibo are well known for their traditional ceramic arts, which are often decorated with geometric patterns inspired by their ancestral cosmology. Each pattern is unique and attributed not to the individual artisan who created it, but to the collective consciousness of the entire tribe. As such,each piece shares a traditional tale of inspiration, ancient knowledge and collective wisdom.
Measures approximately 3" high x 1-1/2" wide
Decorated on both sides
Also available as a Ball, Bell, or Set of Three
Handmade and fair trade imported from Peru.
MEET THE ARTISANS
Aptec Peru Artisan Story
Peru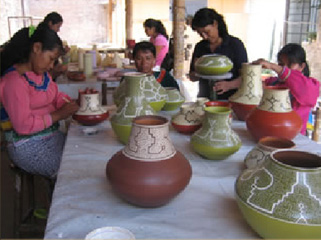 Aptec Peru is an artisan collective located near Lima, Peru. The organization is a community of 16 family workshops that employs about 140 individuals from low-income areas. The extensive skills of the artisans are seen through the range of products they create, including ceramics, jewelry, textiles, stained glass and woodwork.
Besides helping preserve a culture rich in tradition, the collective helps artisan producers better design and create high quality crafts, enjoy increased sales and earn a steady income. As a member of the International Fair Trade Assocation, APTEC Peru ensures artisans are paid fairly for their work, which creates a sustainable working environment for artisans, their families and communities.