Beagle Christmas Ornament with Santa Hat
Tax included.
Shipping
calculated at checkout.
'Tis the season to give paw-velous gifts that put a smile on your face - and how could you resist our charming Beagle Felt Ornament wearing a Santa Hat?
This exceptionally crafted, eco-friendly wool ornament is sure to wow beagle lovers with its unique design. Handmade by gifted artisans in Nepal, this piece has been carefully created using azo-free dyes for a vibrant finish and playful look.
At 3" x 4", it will add just the right amount of festive fun to your tree or wherever you choose to hang it from! And since it's Fair Trade made, this paw-tastic ornament is not only a great find but also helps provide income opportunities or our dedicated crafts people in Nepal. So take home the perfect pick for Christmas cheer that's sure to make friends and family bark with delight!
Fair Trade
Handmade in Nepal
Measures 4" x 3.5"
Meet the Artisans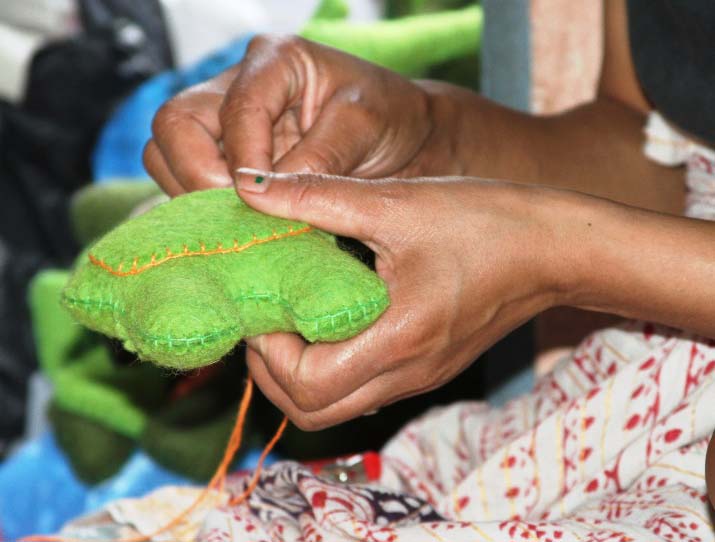 Global Groove is a fair trade organization working with women by supporting and developing artisan co-ops in Thailand and Nepal. The Fair Trade industry is expanding and we are proud to be a part of a sustainable movement that is changing lives. We design, develop, produce and source fairly traded lifestyle products with a commitment to the sustainability of production and the cultural heritage of the groups that we work with. We inhale its people, its landscapes, its colors, its flavors, its very scent, and we exhale to create inspirational products symbolic of our traveling experiences. Global Groove encourages travel because the knowledge, acceptance and understanding of different ways, people and ideas is the very colorful road to a respectful, safer, kinder world.