Flying Hummingbird Tagua Nut Figurine with Brown Wings
Tax included.
Shipping
calculated at checkout.
Say hello to this delightful handcrafted hummingbird figurine that brings cheerfulness into your decor. 
Crafted from tagua nuts, a renewable rainforest seed, this beautiful and friendly critter has been designed with extraordinary care by experts in Ecuador.
.Whether you're a collector who loves exquisite hummingbird decors or simply love mesmerizing birds in flight, this Flying Hummingbird Tagua Figurine with Brown Wings is an ideal choice for you!
The perfect addition to any home's décor collection, it stands out among the rest for its unique design that balances perfectly mid-flight! I
This Hummingbird tagua figurine with Brown Wings has been handcarved in Ecuador from tagua nuts, a renewable rainforest seed known as vegetable ivory for its likeness to real animal ivory, but with animal and habitat-friendly properties. All colors are achieved using natural techniques, such as boiling, fermentation, burning and inlay, that enhance but don't completely cover the nut's organic beauty. Similar to animal ivory, this figurine will gently antique or darken over time.
Measures 2-5/8" high x 2-7/8" wide x 2-1/4" deep
We encourage you to help save rainforests by considering a tagua nut purchase from One World Projects. Please read our extended description below for more information on how tagua nut carvings are made, and how they have helped save thousands of acres of rainforest and wildlife habitat.
Handmade in Ecuador and fair trade imported.
Naya Nayon Artisan Story
Ecuador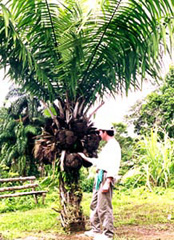 Naya Nayon, an Ecuador-based NGO, counters poverty and deforestation by creating new jobs that depend on conservation and responsible forest management. To accomplish this goal, the company works with 23 local artisans to create figurines, jewelry and ornaments from tagua nuts. These nuts grow year-round in Ecuador and can be harvested without detriment to the rainforest. Naya Nayon gives its artisans all the training, tools and materials they need to work from home, and then manages work distribution from the organizations main office to make sure orders are fairly distributed.