Small Spider Sculpture | Recycled Metal | 4" Wide
Tax included.
Shipping
calculated at checkout.
Some people are afraid of spiders, but these eight-legged creatures can be great to have around the house. They eat insects that can spread disease and destroy plants, making them a symbol of good luck in many cultures.
Whether or not you love arachnids, this metal sculpture is sure to find a place in your home. Made from upcycled scrap metal, it helps to keep the planet clean. Whether you display it year-round or just for Halloween, this metal spider is sure to stand out.
Each spider measures roughly 1 1/2" high, 4" wide, and 3" deep.
MEET THE ARTISANS

Noahs's Ark Artisan Story
India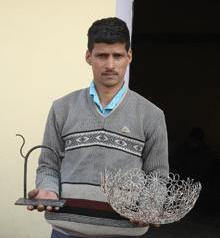 This item was handmade in India in a workshop sponsored by Noah's Ark, an NGO that offers funding for raw materials, machines and workshop repairs to 100 artisan groups across India. In exchange for assistance, workshops must prove that all employees are paid fair wages for their products and work in safe and clean conditions. Noah's Ark also offers free classes in capacity building to its network of 600 artisans, a rigorous quality control check, and runs education and water sanitation projects to benefit the artisans' children and the rest of the community. The company has established 20 new workshops in the past 15 years, and all employees are paid 10-15% above the local rate.